A few years ago I put together a list of events for Crafters on this blog under the tab of craft events, but unfortunately it was too complicated to keep it up, altho you can  still find the old dates and click on the links to see the current dates etc.
There does seem to be a lot going on this year, and so I have copied the listings from two different sources – hence the change of style half way down! – so do have a look and see if there is something that catches your fancy.
UK CRAFT SHOWS & EVENTS
Take a look at the fantastic range of events taking place from August to November
The British Wool Show 2018 
Whatever your chosen craft there will be exciting treasures for you to discover as you explore the stands at the show.
York Auction Centre, Murton Lane, Murton, York
YO19 5GF
10th – 11th August 2018
Click here for more information
Festival of Quilts
Visit Europe's leading quilt show where you can view over 1,000 amazing quilts as well as stocking up on fabric and other quilting suppliers from the 300+ exhibitors.
NEC, Birmingham
9th – 12th August 2018
Click here for more information
Henley Handmade Fair
Explore marquees and outdoor markets filled with handmade jewellery, homewares, clothing and more – all lovingly created by specialist Craftspeople.
Stonor Park Henley on Thames RG9 6HF Oxfordshire
24th – 27th August 2018
Click here for more information
Southern Wool Show
Visit wonderful stands selling a wide range of products, workshops and free demonstrations allowing people to share their passion and skills for woolly arts and crafts.
Newby Racecourse, Newby, RG14 7PN
1st September 10am to 4pm
Click here for more information
Great Northern Needlecraft & Quilt Show
Patchwork and quilting exhibition and needlecraft with trade stands selling all items within the needlecraft trade.
The Great Yorkshire Showground, Harrogate, HG2 8QZ
31st August – 2nd September 2018
Click here for more information
The Creative Craft Show
Stitching, Sewing & Hobbycrafts is where you'll discover ideas, inspiration and all the supplies you could ever dream of! Discover new products and innovations, watch demonstrations and take part in workshops.
EventCity, Manchester, M41 7TB
6th – 8th September 2018
Click here for more information
Perth Festival of Yarn 2018 
Bringing together independent dyers, farmer, small-holders, knitters, spinners, felters and weavers
Dewars Centre, Glover St, Perth PH2 0TH
8th – 9th September 2018
Click here for more information
The Handmade Fair
The Handmade Fair is brought to you by Kirstie Allsopp and is all about appreciating the beauty of handmade, and learning the skills to become a maker yourself! |
The Green, Hampton Court Palace, Surrey, KT8 9BU
14th – 16th September 2018
Click here for more information
Cornish Yarn Festival
15 & 16 September 2018, 10am to 4pm St John's Hall, Penzance
Shetland Wool Week
22 – 30 September 2018
A busy week dedicated to celebrating Shetland wool and textile heritage.
Includes classes, talks, drop-ins, art. See website for the full events listing.
The Wool Event, Masham Sheep Fair
Saturday 29 Sep and Sunday 30 Sep 2018, Masham Town Hall
Craft market and fleece stalls, specialising in British wool to compliment the sheep-related events that fill the square of Masham over the weekend.
Yarndale
29 and 30 September 2018, Skipton Auction Mart, North Yorkshire
For you if you love yarn and are passionate about all things woolly. It aims to celebrate the beauty and diversity of wool, cotton, linen and silk fibres in all their forms.
Bakewell Wool Gathering
Bakewell Agricultural Centre Saturday 13 and Sunday 14 October
An event for wool lovers in the heart of the Derbyshire Dales.
There will be exhibitors, demonstrations of fibre crafts and a fleece stand selling plenty of local fleece.
West Wales Wool Show 2018
Saturday October 6, Queen's Hall and Plas Hyfryd Hotel, Narberth, Pembrokeshire
A celebration of all things woolly. From beautifully hand crafted items, clothing and footwear to knitting wool, fleece and all the equipment needed to make at home. Demonstrations run throughout the day with stall holders sharing their skills and knowledge with visitors plus wool skill workshops such as felting.
Kendal Wool Gathering
Saturday 27th and Sunday 28th of October
Kendal Wool Gathering mixes demonstrations, fun activities and displays, all connected to the cloth on which the town's wealth was built.
Stands and stalls representing all aspects of commercial wool products, including carpets, looms, spinning wheels and crafts will be on display at a large unit at Kendal Leisure Centre. Outside there will be livestock, walks and talks. Linked fun events take place throughout the Kendal.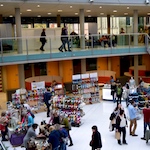 Nottingham Yarn Expo
Nottingham Conference Centre Goldsmith Street Entrance, Nottingham. NG1 4BU
Workshops Saturday 10 and Sunday 11 November. Market place Sunday 11 November